Orange County Community Foundation
I was part of a team of 3 Creatives tasked to tell the Orange County Community Foundation's story of 25 Years of Giving. We were asked to create an interactive webpage that showcased donor accomplishments while prompting social media involvement. Also created were reusable graphics, an annual report and commemorative book package, stationary and event materials. The annual report and commemorative book were gifted to donors at OCCF's 25th Anniversary Celebration. My role was conceptual as well as production heavy - I helped source, create and supply the colors, fonts, and imagery while creating and expanding the brand across multiple channels. I also managed and prepared all project assets including photos and stock illustrations.

The annual report and commemorative book package (Co-Designer: Betty Ko,) was printed on high-quality watercolor paper and features foil accents. It was cased within a silver metallic folder containing die cuts to showcase the titles of each book. The package was gifted to donors at OCCF's 25 Year Anniversary Celebration.

Supplemental interactive webpage to the annual report. Site viewable here:
http://25years.oc-cf.org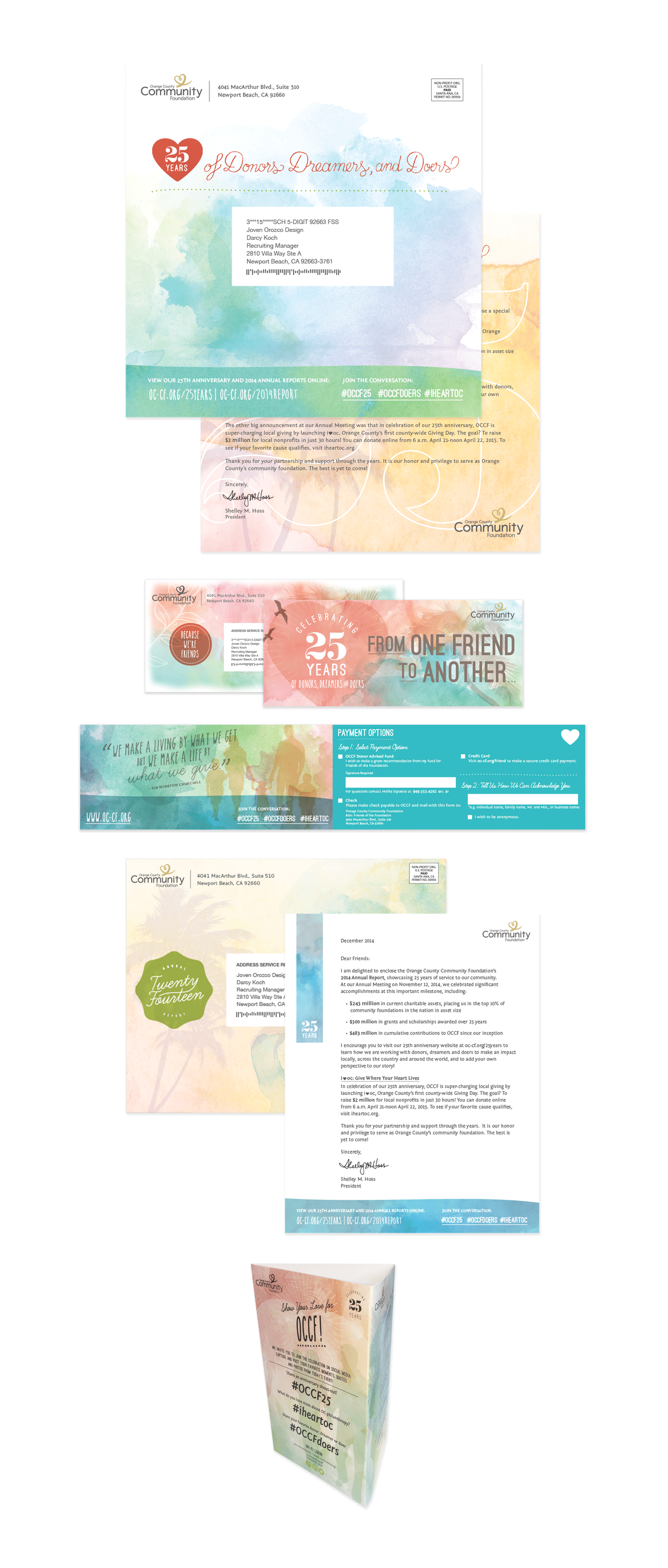 Donors who could not attend the event received the package in a custom mailer. 

The mailer came in one of two sizes: One for the stand alone annual report, and the other for the entire commemorative package. Also shown is a donation brochure, and table tent used to prompt social media activity at the event.
This introductory video was shown at the beginning of OCCF's 25th Anniversary Event. It was created by one of OCCF's video contractors with graphics supplied by Jovenville.
Project was presented to and utilized by the Orange County Community Foundation while working at Jovenville
Additional Credits: Art Direction - Joven Orozco, Graphic Design - Betty Ko, Lettering - Khoa Ha